Valvetronic Designs
SKU:LAM.AVEN.FF
Regular price
Sale price
$3,999.00
Unit price
per
Sale
Sold out
When the Lamborghini Murcielago LP 640 and LP 670 came to the market they produced a sound that was truly sonorous and offered an experience that was unlike any other vehicle to date. Aftermarket exhaust systems on these vehicles only heightened that experience. When the vehicle's production life ended and was replaced with the Aventador, many people thought that the cars had lost a lot of their soul. Although very fast and very loud these cars did not have the same enjoyable sound profile as the earlier vehicles. As our development on this platform continued, it has become clear that the Aventador benefits highly from the addition of Equal Length FreeFlow front pipes. The factory exhaust pipes have roughly 5 inches of difference and this causes the OEM sound and other exhaust systems to have a very flat sound compared to the earlier V12 cars. At Valvetronic Designs we have develop Equal Length free flow front pipes and exhaust system for both the Lamborghini Aventador LP 700, the Lamborghini Aventador S, the Lamborghini Aventador SV and the infamous Aventador SVJ. These exhaust systems for these vehicles change the sound characteristics and give a sound very similar to the earlier V12 cars. This sound experience is vital for the ultimate enjoyment of the vehicle. Drivers with this exhaust system equipped will experience the high pitch F1 sound and allow their aventador to sing all the way to the 9000 Redline. With the addition of our F1 valved rear section, the driver can toggle the open and closed exhaust valve modes to choose the optimal time to unleash this incredible sound. At Valvetronic Designs we believe the owners of these vehicles deserve to have that unparalleled sound. We do not compromise in our pursuit of absolute perfection, and neither should you.
these free flow front pipes are heat shielded to protect vital wiring harnesses and components in the engine bay 
FITMENT:
2012-2020
Aventador 
Aventador S 
Aventador SV
Aventador SVJ
Share
View full details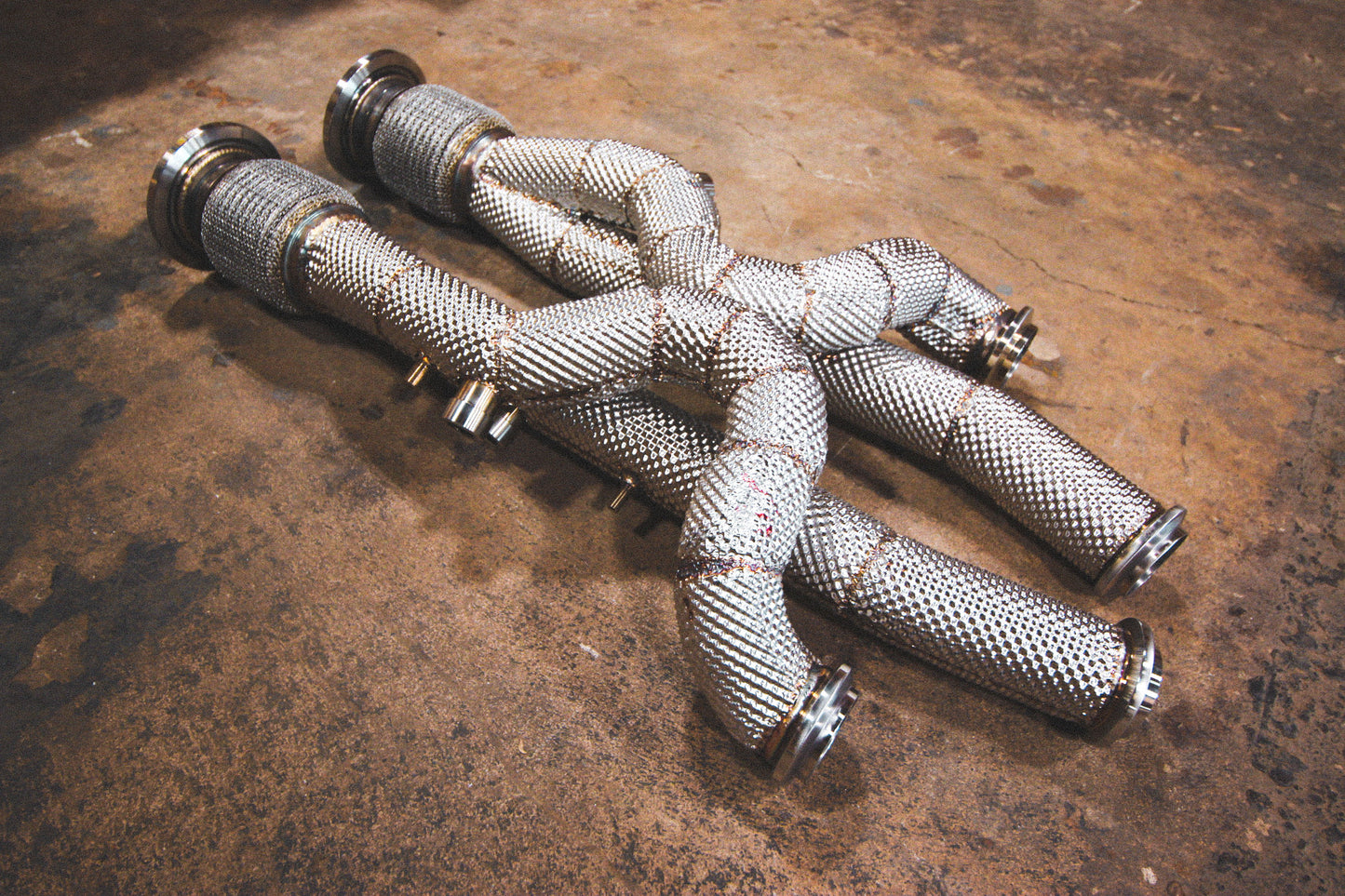 One of the best purchases I've made this year! More smiles per mile!